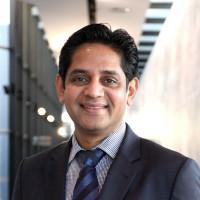 Dr Vikram Puttaswamy
FRACS (Vascular), FRACS (General)
Practices
Profile
Dr Vikram Puttaswamy is Head of Department of Vascular and Renal Transplant Surgery at Royal North Shore Hospital in Sydney and has been a consultant vascular and endovascular surgeon there and at the Sydney Adventist Hospital for over 20 years, specialising in major and complex endovascular and vascular surgical procedures. His interests include complex aortic repair, peripheral arterial stenting and atherectomy, carotid surgery, complex venous minimally invasive surgery and renal transplantation surgery.

Dr Puttaswamy is a Fellow in both General Surgery and Vascular Surgery of the Royal Australasian College of Surgeons. He is involved in the teaching of students and junior medical staff through the University of Sydney and has set up a large vascular surgery research centre at RNSH. He also trains surgeons in the endovascular treatment of aortic aneurysm and peripheral atherectomy in the Asia-Pacific region.

Areas of interest:

Major and complex endovascular and vascular surgical procedures.
Open and minimally invasive aortic aneurysm repair.
Peripheral arterial stenting and angioplasty.
Renal transplantation.
Carotid artery endarterectomy and stenting.
Varicose vein surgery.
Research
Dr Puttaswamy's research interests include: Lower limb bypass using new prosthetic grafts; Complex thoracic and abdominal aortic aneurysm using Endovascular grafts; Venous and Embolectomy for DVT; and the use of stents for lower limb revascularisation.
Hospitals