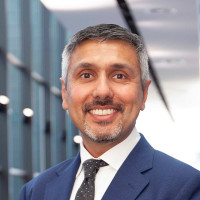 Dr Saurabh Gupta
BSc (Med), MBBS (Hons), FRACP
Specialties
Gastroenterology & Hepatology

Bariatric Endoscopy

Endoscopic Sleeve Gastroplasty

Endoscopic Ultrasound Guided Radiofrequency Ablation (EUS RFA)

ERCP (Endoscopic Retrograde Cholangiopancreatography)

EUS (Endoscopic Ultrasound)

Gastroscopy

Colonoscopy
Practices
Other Languages
Profile
Dr Saurabh Gupta is an Interventional Gastroenterologist specialising in advanced diagnostic and therapeutic endoscopic procedures. Dr Gupta has a special interest in pancreatic and biliary disease including therapeutic EUS and ERCP, as well as endoscopic resection of advanced neoplasia (including Barrett's endotherapy), capsule endoscopy and balloon enteroscopy for small bowel disorders.
Dr Gupta graduated with Honours from the University of New South Wales in 1999 before undertaking his Fellowship in Gastroenterology with the Royal Australasian College of Physicians. Following this, Dr Gupta spent time in Brisbane and then undertook the prestigious Advanced Endoscopy Fellowship at Duke University Medical Center, North Carolina USA, before returning to Brisbane where he worked as a senior consultant and interventional endoscopist for 6 years.
Dr Gupta is a frequent invited speaker to national and international meetings, and is a member of the EUS taskforce Asia-Pacific where he participates in training for advanced endoscopy. Dr Gupta is deputy chair of the inaugural EUS special interest group with the Gastroenterological Society of Australia and is accredited for gastroscopy, colonoscopy, endoscopic retrograde cholangiopancreatography (ERCP) and endoscopic ultrasound (EUS) by the Conjoint Committee for the Recognition of Training in Gastrointestinal Endoscopy.
Research
Dr Gupta has published several peer-reviewed articles. Presently, he is involved in teaching and research in optimising EUS guided fine needle aspirate (FNA) and biopsy (FNB), as well as early detection of metastatic pancreatic cancer. In addition to this, Dr Gupta is examining outcomes of endoscopic management of patients with bariatric surgical complications.
Hospitals