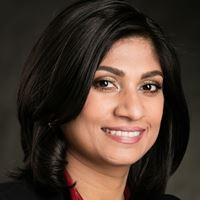 Dr Samantha Herath
MBBS MPhil FRACP
Specialties
Respiratory Medicine

Sleep Medicine

Bronchoscopy
Practices
Other Languages
Profile
Dr Samantha Herath completed her Respiratory and Sleep Medicine training in New Zealand, Australia and Canada. Her main areas of interests are lung cancer and interventional bronchoscopy, sleep medicine, airways disease and research. Dr Herath has completed two fellowships in highly sought after fields of Sleep Medicine and Interventional Bronchoscopy and Lung Cancer.

Dr Herath has extensive post-fellowship, sub-speciality training and expertise in Interventional Bronchoscopy pertaining to thoracic malignancies, having completed a highly competitive interventional bronchoscopy fellowship at the prestigious McGill University, Canada. She has expertise in all interventional bronchoscopic procedures including EBUS and plural procedures. She established the first Radial EBUS and cryo biopsy services in New Zealand and has commenced these services now at Westmead.

Dr Herath has completed a fellowship in Sleep Medicine attached to the Woolcock Institute of Medical Research and Royal Prince Alfred Hospital in 2012. She completed her master's degree at Sydney University in 2013 and her thesis is dedicated to exploring novel EEG parameters to identify sleepiness in Obstructive Sleep Apnoea patients.

Dr Herath has hospital accreditation at Sydney Adventist Hospital, The Chris O'Brien Lifehouse, Macquarie University Hospital and Westmead Private Hospital and is a staff specialist at Westmead Public Hospital. Dr Herath is involved in undergraduate teaching at both Westmead Hospital and Sydney Adventist Hospital, and is an honorary lecturer at Macquarie University.
Research
Whilst being a highly trained clinician and a skilled proceduralist, Dr Herath also has a keen interest in research. She has conducted several multi-centre international trials as the lead investigator, looking at introducing safer and more effective biopsy methods in diagnosing lung cancer, using advanced bronchoscopic methods as a part of her PhD at the University of Sydney. Dr Herath has been published widely in major peer-reviewed journals in all areas of Respiratory Medicine and has won multiple scholarships and grants for her research contributions. Her research articles, publications and presentations are listed below.
Journal Articles
Please click here to download a list of journal articles Dr Samantha Herath has published. (PDF format)
Hospitals