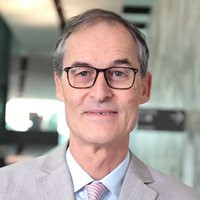 Prof Ralph Cohen
MB BS, BMedSci, MS, FRACS (Paed), Clinical Professor
Specialties
Paediatric Surgery

Paediatric Urology
Interests
Urology
Laparoscopic surgery
Practices
Profile
Professor Ralph Cohen is an Emeritus Honorary Senior Staff Specialist at the Children's Hospital at Westmead and a Clinical Professor in Paediatric Surgery and Urology at Sydney University and the Australian National University, Canberra. Professor Cohen was past Head of the Department of Surgery at the Children's Hospital Westmead (2004 - 2015). He trained in Adelaide and the Royal Children's Hospital in Melbourne. He also trained overseas in the Hospital for Sick Children, Great Ormond Street, London UK, and The Hospital for Sick Children in Toronto as a Clinical Research Fellow in Surgery. He obtained his Master of Surgery Degree in 1988 based on his research in Toronto.

Professor Cohen was a member of the Court of Examiners for Paediatric Surgery, Royal Australasian College of Surgeons (2008- 2017). He was past President of the Pacific Association of Pediatric Surgeons (PAPS) for 2011- 2012. He was Past President Australian and New Zealand Association of Paediatric Surgeons (ANZAPS) for 2012-13. Professor Cohen was a member of the Executive Committee of the World Federation of Associations of Pediatric Surgeons (WOFAPS). Asia/ Pacific Regional Representative, October 2013 - 2019.

Professor Cohen's main clinical interests are in General Paediatric Surgery and Urology including undescended testes, inguinal herniae, hydroceles and PUJ obstruction.
Hospitals