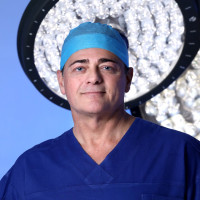 A/Prof Nigel Hope
MBBS, PhD, FRACS, FAOrthA
Specialties
Orthopaedic Surgery

Knee Surgery

Hip Surgery
Interests
Knee Surgery
Sports medicine
Hip Surgery
Practices
Profile
Associate Professor Nigel Hope is a senior orthopaedic surgeon with over 25 years' experience. He specialises in hip and knee surgery including anterior hip replacement, knee replacement, knee arthroscopy and ACL reconstruction. A/Prof Hope provides meticulous care and attention to detail in both surgery and the clinic. He uses minimally invasive techniques with state-of-the-art technology to provide the best patient outcomes. He sees patients at the San Clinic and in Sydney CBD next to the Queen Victoria Building, and he operates at the Sydney Adventist Hospital and St Vincents Private Hospital Darlinghurst.

A/Prof Hope performs the following procedures:

Hip Replacement (Anterior Approach) - he specialises in Direct Anterior Approach (DAA) mimimally invasive hip replacements. In DAA the surgeon enters the hip joint from the front of the thigh and travels between muscle planes not cutting muscles or fibres. Once the hip joint has been replaced the retractors are removed from the area and muscles fall back into position unharmed. This minimally invasive technique creates less trauma to the hip and thigh area and enables faster recovery for patients. The incision length is shorter and cosmetically more attractive than in more traditional approaches.

Knee Replacement - A/Prof Hope uses state of the art technology to perform knee replacements. 'MyKnee' replacements are bioengineering technology from Switzerland which use computer generated 3D models of patient's knee joints to design custom made joints specific to the individual. 'MyKnee' technology does not require metal rods to be pushed down through the hollow of the thigh and shinbone which traditional knee replacements require for limb alignment. A/Prof Hope also performs his 'MyKnee' operations tourniquet-free which allows blood to flow freely through the patient's affected limb area during surgery resulting in less pain and faster recovery time.

Knee Arthroscopy - A/Prof Hope is the only orthopaedic surgeon in Australia to have a PhD in meniscal tears of the knee joint which are the primary reason for arthroscopy surgery. He also uses the state-of-the-art radiofrequency (RF) ablation to conduct minimally invasive knee arthroscopies. RF chondroplasty uses an ionised plasma layer to remove damaged tissue without cutting or touching the surface of the knee joint or meniscus. The plasma layer dissolves damaged tissue in the knee leaving only healthy tissue and an extremely smooth surface. He also performs his arthroscopies tourniquet-free resulting in less pain and faster recovery.

Anterior Cruciate Ligament (ACL) Reconstruction - A/Prof Hope only uses a patient's natural tendon tissue to reconstruct the ACL. Artificial tendons or tendons from other people are not used. Your own tissue regrows and integrates quickly providing a stable cruciate ligament with a rapid return to activity. This is performed tourniquet-free which further accelerates recovery.
Research
Associate Professor Hope is the only orthopaedic surgeon in Australia to have a PhD in meniscal tears of the knee joint. He has taught Orthopaedic Surgery at the University of Notre Dame Sydney since 2010 having developed the orthopaedic surgical syllabus, delivered over 40 lectures, performed yearly examination of medical students and supervised over 25 student projects resulting in publications, honours degrees and PhDs.
Hospitals