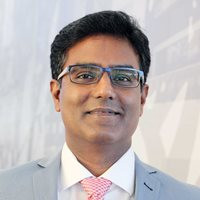 Dr Muzib Abdul Razak
FRCSE, FRACS, M.Ch (Surgical Oncology)
Specialties
General Surgery

Endocrine Surgery

Head & Neck Surgery

Surgical Oncology
Practices
Other Languages
Profile
Dr Muzib Abdul-Razak is a Consultant in the Department of Head & Neck Surgery and Surgical Oncology at Westmead Hospital. He graduated from Madras Medical College in 1995 and completed his FRCS from the Royal College of Surgeons of Edinburgh in 1999. With a passion for Surgical Oncology, he returned to India to complete his General Surgical training (DNB-General Surgery) and pursued a career in Surgical Oncology. Dr Abdul-Razak completed three years of sub-specialty training in surgical oncology and was awarded the MCh in Surgical Oncology in 2004.

Dr Abdul-Razak migrated to Australia in 2004 and was assessed by the Royal Australasian College of Surgeons and after further training and exams, was awarded FRACS in General Surgery. During that time, he spent two years as a Fellow in the Department of Head and Neck Surgery and Surgical Oncology at Westmead Hospital.

Dr Abdul-Razak is a Clinical Lecturer in Surgery at The University of Sydney. He is an active member of the Australia & New Zealand Head and Neck Cancer Society and the Australian & New Zealand Sarcoma Association. He is actively involved in research, pursuing his PhD from Sydney University and leads the clinical trial involving Evaluation of Sentinel lymphnode in Oral cavity squamous cell carcinoma at the Head and Neck service, Westmead Hospital.
Hospitals