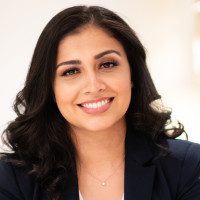 Dr Monika Mukerji
MBBS(Hons) FRANZCOG
Practices
Profile
Dr Monika gained fellowship with the Royal Australian and New Zealand College of Obstetricians and Gynaecologists having completed the majority of her specialist training at Westmead Hospital, including a fellowship in laparoscopic surgery. She continues to provide care to the local community by holding a Staff Specialist appointment at Westmead Hospital where she provides expert care, teaching and mentoring other doctors in a complex tertiary level environment supervising an antenatal & early pregnancy complications clinic and birthing suite.

Dr Monika is a specialist Obstetrician and Gynaecologist who is passionate about women's health and dedicated to providing the highest quality and evidence based care to her patients and their families.

She has expertise in all areas of obstetrics including pre-pregnancy counselling, early pregnancy complications, low and high risk pregnancies including twins, gestational diabetes, pre-eclampsia and prior history of pregnancy complications.

In terms of gynaecology she provides care for abnormal cervical screening tests and colposcopy, abnormal menstrual bleeding, pelvic pain, adnexal pathology, family planning and contraception, pelvic floor dysfunction and menopause. She also has expertise in minimally invasive laparoscopic surgery for benign pathology such as for ovarian cysts, tubal disease, tubal ligation, hysterectomy, and ectopic pregnancy.
Hospitals