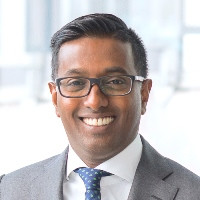 Dr Mayo Theivendran
MBBS FRACS (Vascular) FRACS (General) FLTLT
Practices
Profile
Dr Mayo Theivendran grew up in Melbourne to migrant parents from Sri Lanka and attended Ivanhoe Grammar School in Melbourne. He obtained his medical degree at Monash University and completed his internship at The Austin Hospital. Mayo moved to Sydney in 2009 and completed Specialist Surgical Training in General Surgery and obtained his Fellowship in General Surgery in 2012. He was challenged by Vascular Surgery and undertook further four years of Fellowship training in Vascular and Endovascular Surgery in Auckland City Hospital, St Vincent's Hospital Sydney, Royal North Shore Hospital Sydney and Royal Prince Alfred Hospital Sydney. He obtained his Fellowship in Vascular and Endovascular Surgery and worked as a Consultant Vascular and Transplant Surgeon at Austin, Northern and Epworth Health in Melbourne before moving back to Sydney at the request of his wife. As they say 'happy wife, happy life...'

Mayo has an interest in minimally invasive endovascular surgery which was nurtured during his years at Royal North Shore Hospital Sydney and Royal Prince Alfred Hospital Sydney which have a long history of innovation in this field.

His special interests include:
* Open surgical and Endovascular management of aortic, peripheral and visceral arterial aneurysms
* Endovascular, open and hybrid management of complex aortic and peripheral occlusive disease including angioplasty, stenting, atherectomy and retrograde recanalization of chronic total occlusive disease
* Diabetic foot infections and vascular complications
* Carotid endarterectomy surgery
* Open, minimally invasive endovenous and sclerotherapy varicose vein surgery
* Mesenteric and renal arterial ischaemia
* Venous and arterial compression syndromes
* Intravascular Ultrasound guidance for arterial and venous lesions
* Renal transplant, Fistula creation and maintenance
* Arterial and Venous thrombosis management

Dr Theivendran has presented in international meetings and peer reviewed journals. He takes interest in teaching medical students and surgical trainees. He is involved in the General Surgery selection of candidates for advanced training via the interview process. He has spent time abroad with centres of innovation and excellence in Hong Kong and London to see how processes can be translated to his practice back home in Sydney. Mayo is a member of Australian Medical Association, The Royal Australasian College of Surgeons and the Australian and New Zealand Society for Vascular Surgery. He holds clinical appointments at North Shore Private, Northern Beaches, and Sydney Adventist Hospitals. He provides care to public and private patients.

When time permits he enjoys the outdoors with his wife Komathy and his mini dachshunds, Schultz & Otto (#schultztheminidaschund #ottotheminidoxie). His interest are in vintage cars and dreams of owning a car from the 1960's!
Mayo aims to provide patient education, accessibility, clinical excellence and holistic care.
Hospitals