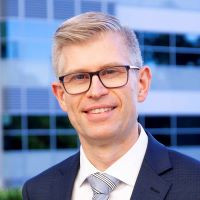 Dr Jason Sharp
MBBS, FRACP, FCSANZ
Specialties
Interventional Cardiology

Cardiology

TAVI (Transcatheter Aortic Valve Implantation)

Angiography

Angioplasty

Echocardiology

LAA Closure (Left Atrial Appendage)
Interests
Interventional Cardiology
Echocardiography
Cardiology
Practices
Profile
Dr Sharp is a consultant cardiologist with expertise in interventional cardiology and structural heart disease. He is director of the Cardiac Catheterisation Laboratories at Sydney Adventist Hospital and co-principal of Specialist Cardiology.

Dr Sharp has particular interests in complex coronary intervention including coronary angiography, angioplasty and stenting as well as Rotablator rotational atherectomy. He has extensive experience in structural heart procedures including atrial septal defect closure, patent foramen ovale closure, left atrial appendage occlusion with the Watchman and Amulet devices, aortic valve procedures including TAVI (keyhole aortic valve replacement) and Mitraclip keyhole mitral valve repair procedures. He performs transoesophageal echocardiography, loop recorder implants and percutaneous transluminal septal myocardial ablation.

Dr Sharp is a proctor for left atrial appendage closure and TAVI in the Asia-Pacific region and a volunteer in the Open Heart International programs in Myanmar and Papua New Guinea. He has rooms in the San Clinic.
Research
Dr Sharp's research interests have included angioplasty and stenting, novel treatments for atrial fibrillation, percutaneous patent foramen ovale closure, renal artery stenting and prevention of radiocontrast-induced nephropathy.
Hospitals