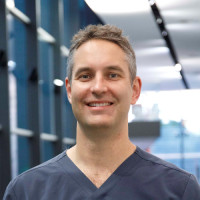 Dr James Symons
MBBS (Hons), BMedSci, MS (Urology), FRACS(Urology)
Specialties
Urology

Urological Robotic Surgery
Practices
Profile
Dr Symons is an experienced urologist offering minimally invasive treatments, laparoscopic and robotic procedures. James has a special interest in men's health, particularly in disorders of the prostate / bladder and male voiding dysfunction. Treatments include medical, lifestyle and minimally invasive surgical management plans for benign prostate hyperplasia (BPH) and lower urinary tract symptoms (LUTS). Prostate cancer is managed in a modern multi-disciplinary setting and aims to minimise the morbidity (and anxiety) of the disease and its treatment.

Dr Symons believes in tailoring a patient's care to their own unique circumstances, and ensures that all patients are fully informed and actively involved in the decision-making process.

In addition to his clinical interests, James is the Co-Director of the Sydney Adventist Hospital Prostate Centre of Excellence. He is a Senior Lecturer at both the Australian National University and the University of Sydney. The latter is his alma mater, where he now leads the Surgical Endoscopy program in the Master of Surgery degree.

Dr Symons is a Fellow of the Royal Australasian College of Surgeons, a faculty member at the University of Sydney, a founding member of the St Vincent's Community Hospital Medical Advisory Committee, and holds membership with the Urological Society of Australia and New Zealand, Australian Medical Association, European Association of Urology, American Urological Association, Australian - Canadian Prostate Cancer Research Alliance, International Continence Society, Academy of Surgical Educators, and Royal College of Physicians & Surgeons of Glasgow.

Areas of interest:

Robotic & Laparoscopic Surgery.
Prostate, Kidney, and Bladder Problems.
Family Planning.
Medical Education.
Hospitals