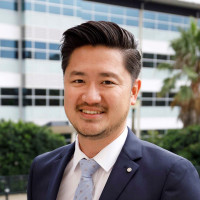 Dr Jacob Kwak
MBBS FRACP FAChPM
Specialties
Palliative Medicine

Geriatric Medicine

General Medicine
Practices
Other Languages
Profile
Dr Jacob Kwak graduated with MBBS from University of New South Wales in 2009 and underwent post-graduate training at Royal North Shore Hospital followed by specialist training in Geriatric Medicine and Palliative Medicine across Royal North Shore, Concord, Westmead, Prince of Wales, Gosford, Neringah and Greenwich hospitals. He was awarded his Fellowship with the Royal Australasian College of Physicians as a dual specialist in Palliative Medicine and Geriatric Medicine.

Jacob works as a Palliative Medicine specialist at Sydney Adventist Hospital. He integrates expertise in both fields to provide holistic person- and family-centred care, with the aim to optimise function and improve quality of life.

He has professional interest in the areas of Perioperative Medicine, Geriatric-Oncology, comprehensive Geriatric Assessment, Supportive and Palliative Medicine, and clinical education.
Research
Dr Kwak has specific research interest in the areas of Geriatric Pharmacology and clinician-family communication.
Hospitals