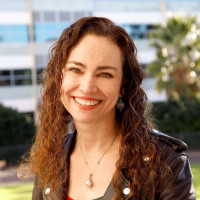 Dr Hilda High
BSc, MBBS(Hons), MCH, FRACP, DipNutDiet
Practices
Profile
Dr High completed her medical degree at Sydney University with honours. She is a registered medical oncologist specialising in cancer genetics. She has worked with hereditary cancer services at the Prince of Wales Hospital, Westmead Hospital and Royal North Shore Hospitals and now works with Sydney Cancer Genetics through rooms at the San Clinic.

Dr High works hard to provide equity of access to cancer genetics services. She conducts telehealth consults, with booking via her rooms at the San Clinic, into local GP practices and even into patient's homes. For people living in rural, regional and remote areas of Australia, this reduces the time and expense associated with travel to capital cities as well as allowing family members or support people to attend the consult as well.

Dr High has a keen interest in research. She has presented her work at national and international conferences and has published in key international journals. She completed her Master of Community Health, for which she won the Master of Community Health Prize, through the University of NSW. Combining her knowledge and passion for both genetics and oncology, Dr High is an enthusiastic speaker, providing lectures and talks to medical students, nurses, registrars, GP's and specialists. Her presentations also include talks to special interest groups. She is a Clinical Lecturer with the University of Sydney and has an active role in training medical and allied health students at The Sydney Adventist Hospital's Clinical School.

Dr High is a caring and sympathetic doctor. During her training at Westmead Hospital, she was awarded The Dominque Clancey and Andrew Donald Memorial Prize: "in recognition of her dedication, selflessness and commitment to others". She is aware of the emotional issues that can arise when discussing family cancer histories as well as the sometimes complicated dynamics of a modern family. Dr High previously worked as an HIV specialist dietitian and was Head of the Nutrition Unit at the Albion Street Centre, Sydney. She was awarded the Mead Johnson Achiever's Award from the Dietitians Association of Australia and Bristol Myers Squibb for "leadership, expertise and service to the profession". She is skilled in working in sensitive areas requiring privacy, confidentiality and compassion.

She is a key member of the Cancer Institute's eviQ group, working with national experts to provide standardised Australian guidelines for the testing and management of inherited disorders associated with cancer. Her current professional memberships include: the Medical Oncology Group of Australia (MOGA), the American Society of Clinical Oncology (ASCO), the Human Genetics Organisation (HUGO) and the Private Cancer Physicians Australia (PCPA).
Research
Dr High's main research interests are in the areas of clinical research and quality of life. Her passion is in translating current research for the lay public and generalist medical professionals and developing consensus guidelines based on evidence and best practice. To this end, she:
- was editor and co-author of the 64 page full colour Weight Gain Cookbook: Fattening and Fabulous. ISBN 0-646-23135-9
- is an active member of the Cancer Institute's eviQ Cancer Genetics group, a point of care, clinical information resource that is current evidence based and peer maintained
- has developed and published several educational YouTube videos (www.YouTube.com/SydneyCancerGenetics)
- co-wrote the "HIV and Nutrition National Standards of Care" for the Dietitians' Association of Australia
- was an invited member of special task force to develop the "National Guidelines on Nutrition and HIV/AIDS" and related "Positive Eating Booklets" for the Commonwealth Government

Her publications include:
- Paik JY, Toon CW, Benn DE, High H, Hasovits C, Pavlakis N, Clifton-Bligh RJ, Gill AJ. Renal carcinoma associated with succinate dehydrogenase B (SDHB) mutation: A new and unique subtype of renal carcinoma. Journal of Clinical Oncology, accepted for publication November 2012
- Gold J, High HA, Li Y, Michelmore H, Bodsworth NJ, Finlayson R, Furner VL, Allen BJ, Oliver CJ. Safety and efficacy of nandrolone decanoate for treatment of wasting in patients with HIV infection. AIDS 1996;10:745-752
Hospitals