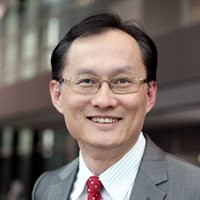 A/Prof Felix Chan
MBBS MRACOG FRANZCOG CGO
Specialties
Gynaecology

Gynaecological Oncology

Gynaecology Robotic Surgery

Advanced Endoscopic Surgery

Advanced Operative Laparoscopy
Interests
Laparoscopic surgery
Gynaecology
Practices
Other Languages
Profile
Dr Felix Chan graduated from the University of New South Wales in 1986 with a Bachelor in Medicine and Surgery. After gaining experience in general medicine, surgery, emergency medicine and paediatrics he developed an interest in Obstetrics and Gynaecology. He received the Gold Medal for MRANZCOG examination in 1990 and was admitted to the Westmead Hospital Integrated Training Program. He was inspired by Prof Alex Crandon and Prof Roger Houghton (professors in gynaecological oncology) and became the first fellow in gynaecological oncology at the hospital. He has a keen interest in developing and applying surgery in this exciting field of medicine.
In 1996 he spent his fellowship at King Edward Memorial Hospital, Perth, where he developed a keen interest in defining the role of laparoscopic surgery in gynaecological oncology. He had the opportunity to work with Prof Anthony J McCartney, Prof Ian Hammond and Prof Yee Leung, and in 1997 had the pleasure to work with Prof J Shepherd in St Bartholomew's Hospital, Royal Marsden and Royal London Hospitals in the UK. He gained proficiency and expertise in gynaecological surgery after attending a master class with D Queleu, D Dargent (France) and Prof John Monaghan (UK).

Dr Chan currently works as Director in Gynaecological Oncology at Liverpool Hospital (since 1998), treating women with gynaecological malignancies across the west zone of the Southwest Sydney Area Health Service. He is also co-joint lecturer for the University of NSW in O&G and A/Prof at University of Western Sydney, involved in teaching undergraduate and postgraduate students. He is a training supervisor for Liverpool Integrated Training Program, and has appointments at Westmead Private, Sydney Adventist, Sydney Southwest Private, Macquarie University, and Mater Private hospitals. He was also nominee for Australasian of the year in 2009, 2011 and 2012.
Research
Dr Chan's research interests surround the role of surgery in the treatment of gynaecological malignancy. He is a pioneering surgeon in robotic surgery in Australia. In relation to oncological surgery, Dr Chan's interests are in Radical Hysterectomy; Radical pelvic sidewall dissection; Assessment & removal of adnexal mass; Staging & surgical treatment of gynaecological cancer; Radical vulvectomy; Inguinofemoral lymphadenectomy; Pelvic & para-aortic lymphadenectomy; Radical tumour debulking for ovarian cancer; Enbloc resection of sigmoid-rectum; and Small bowel resection & reanaestomosis.

Other interests include assessment & management of women with abnormal pap smears; laser therapy for genital dysplasia; assessment & managment of women with familial cancer syndrome; treatment of primary & recurrent genital repair; laparoscopic pelvic floor repair and sacrocolpopexy with mesh; treatment of advanced pelvic endometriosis; laparoscopic tubal reversal; laparoscopic removal of uterine fibroids; laparoscopic removal of pelvic mass; surgical treatment of genital fistular; and reconstructive vaginal & vulval surgery.
Hospitals