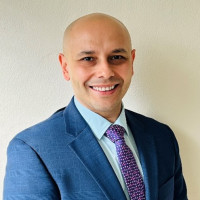 Dr David Youssef
M.B.B.S, B.Pharm, D.Child Health (University Sydney), FRACP
Practices
Kidzz Practice

San Clinic, Suite 606, 185 Fox Valley Road

WAHROONGA

Phone: (02) 9480 8660

Children's Hospital Medical Centre

Suite 15, Level 2, Hainsworth Street

WESTMEAD

Phone: (02) 9891 6800
Other Languages
Profile
Dr David Youssef completed undergraduate training at the University of Sydney and post-graduate training at Griffith University, obtaining a Bachelor of Pharmacy and Bachelor of Medicine and Bachelor of Surgery, respectively. During his medical training, he gained experience at several hospitals, including Gold Coast, Prince Charles, Tweed Heads and Liverpool Hospital. He undertook a three-year posting at the Sydney Children's Network, where he focused on Paediatric Cardiology training.

In 2020, he undertook two fellowships at The Stollery Children's Hospital, Edmonton, Canada, in the fields of Paediatric Echocardiography and 3-Dimensional imaging and Paediatric Pulmonary Hypertension.

On completion of his Paediatric Cardiology training, Dr Youssef has returned to Australia, where he currently runs a Paediatric Pulmonary Hypertension Pilot program integrating multidisciplinary care and treatment of complex Paediatric Pulmonary Hypertension patients. In addition, he has recently been involved in the development of a multidisciplinary Bronchopulmonary Dysplasia (BPD) clinic of graduates from the neonatal intensive care unit.

Dr Youssef continues to work across the Sydney Children's Hospital Network, including both Randwick and Westmead Campus.

Clinical interests:
- Paediatric Pulmonary Hypertension
- Three-Dimensional Imaging of Paediatric Congenital Heart diseas
- Co-investigator of new and emerging Paediatric Pulmonary Hypertensive therapy
- Medical school education at both the University of Sydney and University of New South Wales.

Research
Dr Youssef has recently published in Frontiers Journal in 2023 on new and emerging treatment strategies for Paediatric Pulmonary Hypertension. He has presented at the International Society of Heart Lung Transplant in Denver, USA and the American Heart Association meeting in Chicago. He is currently working on publishing the Australian experience with new oral therapy in the Paediatric Pulmonary Hypertension Population.
Hospitals