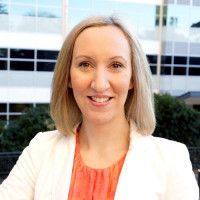 Dr Csilla Hasovits
BSc (Med), MBBS (Hons 1), FRACP
Practices
Profile
Dr Csilla Hasovits completed her medical degree with first class honours at the University of New South Wales in 2004. She undertook post-graduate and specialist training in Medical Oncology at Royal North Shore Hospital and was awarded her Fellowship with the Royal Australasian College of Physicians in 2012. Dr Hasovits practices as an associate of the Northern Haematology and Oncology Group, providing comprehensive cancer care within the Sydney Adventist Hospital. She specialises in all areas of solid organ malignancies, with a particular interest and active participation in multidisciplinary teams and meetings encompassing lung, breast, gynaecological and gastrointestinal cancers. She is a member of the Sydney Adventist Hospital Clinical Trials Unit and actively involved in patient participation in investigator-initiated, pharmaceutical and collaborative group trials across a range of cancer types.

Dr Hasovits has a keen interest and experience in research and teaching. She has held a research position as Lung Cancer Research Fellow at the Kolling Institute of Medical Research. Dr Hasovits has obtained additional experience in palliative care medicine in both the community and hospital settings. Dr Hasovits has a number of peer-reviewed publications, review articles and book chapters covering a broad spectrum of cancers including lung, gastrointestinal, kidney and gynaecological cancers. She is involved in teaching and the training of medical students, junior doctors and allied health staff. Dr Hasovits regularly participates in lectures and presentations to medical students, GPs, specialists and special interest groups. Her current professional memberships include the Medical Oncology Group of Australia, American Society of Clinical Oncology and a number of Australasian clinical trial groups.
Research
Dr Hasovits is involved in both clinical and translational research, with a particular interest in thoracic and breast malignancies. During her time as a Lung Cancer Research Fellow, she received awards from the Cancer Institute and Cancer Council NSW, Royal North Shore Hospital, Kolling Institute of Medical Research and University of Sydney. She has presented her research findings at national and international conferences and published in key international journals. Dr Hasovits is a member of a number of research groups, including the Thoracic Oncology Group of Australasia, Australasian Gastro-Intestinal Trials Group, and Australia and New Zealand Urogenital and Prostate Cancer Trials Group.
Hospitals