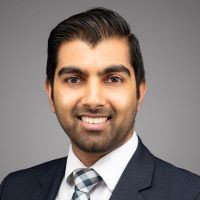 Dr Aviv Pudipeddi
MBBS (Hons1), FRACP
Specialties
Gastroenterology & Hepatology

Gastroscopy

Colonoscopy
Practices
Profile
Dr Aviv Pudipeddi is a Gastroenterologist and Hepatologist who is passionate about providing individualised quality care to his patients. He is experienced in managing multiple conditions including gastro-oesophageal reflux disease, coeliac disease, irritable bowel syndrome, hepatitis and chronic liver disease, as well as performing bowel cancer screening. He has a particular interest in the diagnosis and management of inflammatory bowel disease, including ulcerative colitis and Crohn's disease.

Dr Pudipeddi graduated with first-class honours from the University of New South Wales in 2012. He completed his general physician and advanced Gastroenterology training at Royal Prince Alfred Hospital and Concord Hospital.

Dr Pudipeddi is a member of the Gastroenterological Society of Australia and is accredited for gastroscopy and colonoscopy by the Conjoint Committee for the Recognition of Training in Gastrointestinal Endoscopy. He strives to provide high quality, compassionate and personalised care to achieve the best outcomes for his patients.
Research
Dr Pudipeddi is currently completing a PhD in the field of inflammatory bowel disease, and has received the prestigious National Health and Medical Research Council (NHMRC) postgraduate research scholarship. He has a strong interest in teaching, and is a clinical associate lecturer with the University of Sydney.
Hospitals