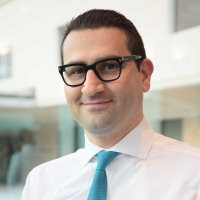 Dr Richard Haddad
B. Med. (Newc), M.S. (Syd)(Urol), FRACS (Urol)
Specialties
Urology

Urological Robotic Surgery
Practices
Profile
Dr Richard Haddad is sub-specialised in robotic uro-oncology after intensive post-fellowship training as the robotic uro-oncology fellow at McGill University Health Centre Montreal Canada in 2012 (Montreal General Hospital, Jewish General Hospital of Montreal). He was the Dux of St. Patrick's College Strathfield in 1995, and completed Medical School at The University of Newcastle in 2000. He was an intern at RNSH Sydney. He trained in General Surgery and subsequently Urology in Sydney between 2003 – 2010. In 2011 he was the Urology Fellow at RNSH. In 2012 he was awarded a stipend to complete the 12 month prestigious and highly competitive Robotic Fellowship at McGill University Montreal Canada.

Clinical and operative services are provided at the San or Norwest Private Hospital. They include; robotic prostate surgery, robotic partial nephrectomy, oncology, open pelvic surgery, laparoscopy, PSA assessment, Prostate MRI, targeted prostate needle biopsy, kidney stones, circumcision, vasectomy, BPH (prostate enlargement), endoscopic prostate surgery, cystoscopy, bladder cancer, kidney cancer, urinary flow study, urodynamics, scrotal surgery, urinary incontinence, prosthetics. Dr Haddad attends general and prostate urology multi-disciplinary team meetings. Emergency care is provided at both sites.

Dr Haddad's practice manager, Erika Houssenloge, has over 25 years experience running surgical practices. His full time practice nurse, Margaret Troup, has over 30 years experience. His receptionist is Lisa Sofiak.
Research
Dr Haddad has published within international and local peer-reviewed journals. He holds a Master of Surgery in prostate cancer. He was awarded a biosciences research grant in 2012. His areas of research include; robotic partial nephrectomy, robotic ileal neobladder, prostate cancer, kidney cancer, and robotic surgery training.
Journal Articles
Please click here to download a list of journal articles Dr Richard Haddad has published. (PDF format)
Hospitals